Trent Bridge - England v Australia
ENGLAND 215 all out (59 overs)
AUSTRALIA 280 all out (64.5 overs)
A. Agar 98
P.J. Hughes 81 n.o.
J.M. Anderson 5-85
ENGLAND 375 all out (149.5 overs)
AUSTRALIA 296 all out (110.5 overs)
B.J. Haddin 71
C.J.L. Rogers 52
J.M. Anderson 5-73
S.C.J Broad 2-54
ENGLAND WIN BY 14 RUNS
Here's a thought, then: England are terrible at poetry. Australia come up with an even worse hashtag than
#RISE
:
#ReturnTheUrn
. Then the two organisations start measuring who has the best fan base by measuring all the tweets. But Alastair Cook won the toss on a sunny Wednesday morning, and after all the hype, the players were off.
I was unavailable on Wednesday morning, but the carbon copy of Lord's 2005 started when I got in, loaded up my flash app, and gaped open-mouthed at the score. I immediately went into rant mode, but forgetting that I know Americans, I was soon answering questions about what cricket is.
Rather taken aback at the score, I began to wonder whether England would lose the little urn. However, a muscular cameo from Broad almost saved our bacon, and I began to wonder why the tail keep chipping in in Ashes series. Then I realised the Lord's carbon copy. Then, Ponting won the toss, batted first, and Australia promptly collapsed to 190 all out. Glenn McGrath then steamrolled England to 21-5. Thanks to 57 from Pietersen and 30 from Geraint Jones, England laboured to 155 all out. England's bowling flopped in reply and we lost by miles. We'd only managed 215 this time around.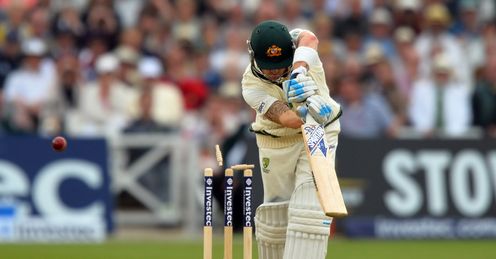 The euphoria became louder as Finn and Anderson then set to work on Australia, Anderson producing a wonderball through to bowl Michael Clarke, the Aussie captain, and although Australia weren't quite 21-5, they were down to 22-3, and I began to feel as if the copy was being carbonated.
Australia closed day one on 75-4 with England in a commanding position. On day two, Hughes and Smith got Australia on the road, but they hadn't thought of Shane Warne Graeme Swann and Glenn McGrath James Anderson. Australia collapsed to 117-9, with only Phillip Hughes and debutant Ashton Agar at the crease. Defence from Agar. Defence from Agar. Defence... defence... defence... Then Agar went crunch. He showed that you can take on this fantastic bowling attack.

On 6, Agar came forward to Swann. Prior had no hesitation in whipping the bails off, and it was sent upstairs. The foot was on the line when the bails were dislodged, and on the line is out. Two weeks ago, the same umpire who was in the box had given Ian Bell out in similar circumstances on extremely slender evidence. Ashton Agar... NOT OUT. No one could believe it. Moray Erasums was now wanted by every England supporter in the world. When Agar then smashed two sixes and twelve fours, the records started to tumble. Highest score for a number 11 batsman on début: broken. Highest tenth-wicket partnership: broken. Highest score for a number 11 batsman: broken. And all of a sudden, Ashton Agar, a 19-year-old debutant from Australia who plays for Henley on Sundays, was on 98 not out. Stuart Broad steams in again, it's a short ball. Agar stands tall, pulls it to mid-wicket... and GONE!! Graeme Swann catches Ashton Agar on 98. The Lord's carbon copy continues with a debutant top-scoring. Australia 280. 65 runs ahead of England. Then England had to go in and bat.