There are a few main reasons as to why Felix Magath should be sacked. Firstly, we'll look at last season, 2013/14. In a moment of madness,
René Meulensteen is sacked from Fulham
, and Felix Magath is appointed as manager.
TACTICS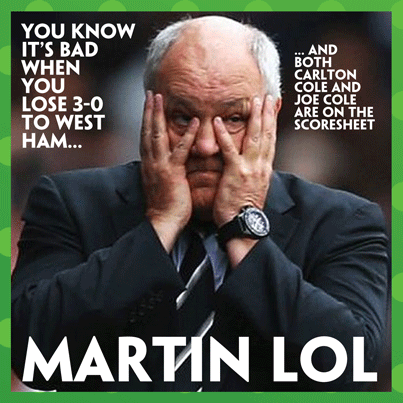 The main problem with Martin Jol was that he was too rigid and he showed an unwillingness to change his formation and tactics, which lead to other teams easily breaking Fulham down, most memorably against West Ham, prompting bookmakers Paddy Power to issue this "MARTIN LOL" poster. We knew what he would do and I could almost quote his preferred team: Stekelenburg; Riether, Hangeland, Senderos, Richardson; Ruiz, Parker, Sidwell, Taarabt; Bent, Berbatov.
René Meulensteen, however, I felt, tossed things up perfectly. The Fulham fans had a rough idea as to who was playing and where, but René would change things up and force the other team to guess. For example, against Manchester United, he used a counter-attacking approach, which Fulham almost won from as Kieran Richardson scuffed his shot (although I maintain that Muamer Tankovic should have passed right to Ryan Tunnicliffe, who was in a penalty-esque position, directly in front of the middle of the net, not to the tight angle of Richardson). Playing Liverpool three days later, you would have been forgiven for expecting the same. But no, René played an attacking game, with Tunnicliffe having the first chance of the match before Kolo Touré comically took away a goal for Tunnicliffe, deciding to add "own" in front of it. We lost narrowly and René was shown the door.
However, Felix Magath does this too much, which means that the players don't know who will be playing on Saturday on Friday night, according to William Kvist, who couldn't quit there and then because René had loaned him in. The comical formations, the bizarre team selections, and the shunning of international footballers for players that had played in the second and third tiers of English football over the last two seasons was ridiculous. Did I mention that he loaned out ALL the players that René Meulensteen brought with him from Manchester United's youth teams (Meulensteen was famously assistant manager to Sir Alex Ferguson at United)? A friend of mine recently told me that "Larnell Cole may appear on a missing persons' list soon". Faced with the choice between Maarten Stekelenburg, a Dutch international, or David Stockdale, a 28-year-old from Leeds who'd played in the Championship the previous season, Magath chose Stockdale. Faced with the choice between a Greek international nicknamed "Mitro-goal" or Cauley Woodrow, who had played League One football that season, Magath chose Woodrow. Meulensteen's favoured "young" players, Tunnicliffe, Cole, Tankovic, and Dan Burn had all been wiped off the face of the earth by Magath.
PLAYER ATTITUDES
Felix Magath is famously a disciplinarian, but this is rubbing off in, I'm afraid to say, a bad way. I've already mentioned William Kvist, and whilst Magath may have revitalised Ashkan Dejagah's career, the performances of Steve Sidwell dwindled after Felix's appointment. Sidwell was performing at his absolute best under René Meulensteen and when René ended up going through a tough run against teams that were very unlikely to beat him, Steve Sidwell and Muamer Tankovic were the two shining lights. Sidwell was the only player to score in 2014 until Darren Bent snatched a late equaliser against Manchester United. But after Magath came in, Sidwell only managed one further goal - and that was a virtuosic performance which the manager would have no effect on anyway.
William Kvist, John Arne Riise, and Brede Hangeland have gone on record criticising Magath. This showed in their performances. Kvist and Riise were dropped, whilst Hangeland conceding a couple of quite silly goals under Magath.
Furthermore, we don't know what's gone on with the relationship between Stekelenburg and Magath; it appears to have broken down beyond repair, and the rumours circulating is that Magath is expelling Stekelenburg from having any contact with the first team. If the rumours are to be believed, Maarten Stekelenburg, a Dutch international, is not allowed to eat with the team, train with the team (with the U18s allegedly is where he's training) and Felix will not speak to him until he is transferred.
RESULTS
Statistically, Felix got the best results, but when you consider the teams he had to face, this isn't surprising. Martin Jol kept conceding late goals and late points with it, René kept collapsing, and with Magath a good result one week would turn into chaos just seven days' later.
Martin Jol lost crucial points with conceding late goals against Newcastle United, West Bromwich Albion, and Cardiff City, costing us 6 points, which would have been enough to stay up. Darren Bent did score a late goal against Stoke City, however.
With René Meulensteen, games which the team were either drawing or narrowly losing ended in what appeared to be a thrashing: Everton 4 - 1 Fulham; Fulham 2 - 4 Manchester City; Hull City 6 - 0 Fulham; Fulham 1 - 4 Sunderland - not that you would have guessed those scorelines at half time in each of those matches. The collapses stopped when John Heitinga was drafted in and Hangeland out, but by then René only had 180 minutes of Premier League football before getting axed.
With Magath, I don't know where to begin. A half-decent performance against an underperforming Pepe Mel earns us a point (and even my Stekelenburg fanboyishness can't save him here), but the next week we concede 3 in the space of 14 minutes against Chelsea, and then we lose 3 - 1 to Cardiff City. The icing on the up-and-down cake was Fulham vs Hull City. Fernando Amorebieta, the world's worst throw-in taker, ends up scoring a goal before conceding one appallingly. A piece of bad luck and some awful Fulham substitutions get thrown into the equation - and before you know it, we've lost another two points. Then the world's slowest moving man, Darren Bent, plays away to Stoke, Felix Magath plays Dan Burn at right back, a position he's never trained in, let alone played in, and so we lose 4 - 1 and get relegated as Sunderland win 1 - 0 at Old Trafford. A consolation point against Crystal Palace courtesy of some Chris David brilliance and that's the season from hell done.
HERE AND NOW
Pre-season, things are looking bleak. "Trialist A" features in every match, David Stockdale has gone, Maarten Stekelenburg is nowhere to be seen, nor is Tunnicliffe, nor is Cole. Furthermore, £11m signing Ross McCormack is apparently "not fit". Magath is shunning a potential £23m strike force in Mitroglou and McCormack and has opted for Woodrow and Taagart in recent frendlies.
We don't even know what Felix Magath's strongest XI is. Obviously this doesn't give the opposition any clue either, but I don't think it gives the players a clue either.
Fulham must sack Magath and appoint a manager which can give a harmonious atmosphere to Fulham Football Club. Such a divisive manager is not the answer when the players are downhearted. "Penfold" hasn't got a clue. Felix Magath is slowly ruining Fulham - download an update for Football Manager, play as Fulham, and you'll see what I mean...