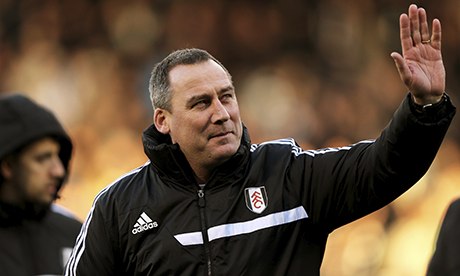 René Meulensteen. Unquestionably the greatest assistant manager of the last decade. Won several titles, has a history of making great players great again, and deserves experience. I'm not saying that Liverpool should sack Brendan Rodgers in order to hire René Meulensteen as a manager, but if it does come down to it then Meulensteen would be a great candidate. Meulensteen has some of the best credentials of any unemployed staff member worldwide.
René Meulensteen is, and this is the only stumbling block, "Sporting Director" at Philadelphia Union in the United States. Liverpool would have to tempt him away - but is this hard?
Meulensteen would be a great asset for Liverpool for one reason, and one reason only: Mario Balotelli. Meulensteen, when at Manchester United and Fulham, revitalised the careers of their main men, Cristiano Ronaldo and Dimitar Berbatov respectively. In particular, with Ronaldo, Meulensteen mentioned to him on day one that it doesn't matter how you score, but how many are scored. In his first season with United, Ronaldo scored 23 goals - but all of them were top corners. "It was time to score ugly goals, as well as beautiful ones." By the end of January in his second season at United, Ronaldo had scored 27.
Then - and this is where Balotelli comes into play - Meulensteen and Ronaldo worked on "attitude issues".
Meulensteen said to Ronaldo: "Do you remember the goal you scored against Sporting at home, the free-kick [Nov 2007]? You turned around to the camera, and did this [spreads hands out]? What were you trying to say? Sorry? Or were you trying to say "look at me, nobody else can do that"?" Meulensteen asked a kitman what he thought, and he believed Ronaldo was saying the latter. So Meulensteen turned to Ronaldo and said: "That's what the millions think. They look at you as arrogant. You do the same thing when you get hacked down, "argh", toys out the pram: "You can't kick me, I'm Cristiano Ronaldo." You need to learn to play football the way Bjorn Borg and Roger Federer play tennis. Ice cold. The moment people stop kicking you is because they've found another way to stop you. You want people to kick you. You need to make sure you see it coming. Make sure you're clever".
Meulensteen did exactly the same thing with Dimitar Berbatov in the short time they were together at Fulham. Berbatov scored 75% of his goals that season under Meulensteen and finished as Fulham's third league top scorer that season, despite only playing 7 league games under Meulensteen. Berbatov has since rediscovered his midas touch at AS Monaco, linking up well with Falcao before the latter left for Manchester United.
Resultantly, Liverpool need Meulensteen, if only to cool the Balotelli scandal. Additionally, not one person would question that Steven Gerrard is a better midfielder than Steve Sidwell - but if Meulensteen can create, in 70 days, a player who is a goalscoring machine in Sidwell, what will he do with Gerrard? Factor in Ronaldo and Meulensteen certainly likes a scoring midfielder here or there. Meulensteen's tenure at Fulham resulted in them scoring 15 goals from 13 league games. Factoring out the two own goals from Vincent Kompany and Kolo Touré, Berbatov and Sidwell scored 69% of them. A linkup of Gerrard and Balotelli would be heavenly for Liverpool fans.
Meulensteen's high points at Fulham would suit Liverpool immensely. Meulensteen also gave Kieran Richardson a big boost - what would he do to Raheem Sterling in the same position, I wonder? He would give youth a chance, having opted to play Dan Burn, Ryan Tunnicliffe, and Muamer Tankovic in place of Brede Hangeland, Ashkan Dejagah, and Darren Bent.
To answer his low points at Fulham (mainly his appalling defensive record and the odd blip here and there), Liverpool's centre backs are, unquestionably, far superior than Phillipe Senderos, Fernando Amorebieta, Brede Hangeland, and Aaron Hughes (Dan Burn a possible exception considering his age). Regarding the blips, all managers have off days: Chelsea 6 - 0 Arsenal does not warrant Wenger's beheading, now, does it?
But I'm not a Liverpool fan. Liverpool fans, I would genuinely be interested to hear your views on this. Do you need a new striker altogether? Well, how about Kostas Mitroglou, who Meulensteen bought but was sacked before he had a chance to play him (Magath subsequently sent him packing)?
______________________
Credit to Henry Winter of The Daily Telegraph, who conducted the interview regarding Meulensteen and Ronaldo in the summer of 2013.