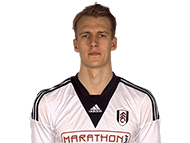 This season, Kit Symons has opted for Richard Stearman and Tim Ream in the centre back positions. This means that the centre back Dan Burn is losing out on a potential spot. But experimentation in the games he has played in mean that we are able to welcome Fulham's new centre forward signing: Dan Burn.
Dan Burn is probably Fulham's most in-form striker, with Ross McCormack plodding, Cauley Woodrow misfiring, and Moussa Dembélé trying without success. All right, Burn hasn't scored so far, but he provided one assist to get a late equaliser against Huddersfield Town, with an excellent pass in to Cauley Woodrow, oh-so-nearly gave Fulham a point against Sheffield Wednesday, and crashed it against the woodwork against Stoke City in the Cup.
Only for the Sheffield Wednesday game has Dan Burn come on specifically to play as a forward. He is naturally a centre back - it is very rare to have such a player who can easily play as a striker too. He is a very good centre back for me, and in my opinion should be starting nonetheless. He is also Fulham's third captain, but at the rate Ross McCormack is playing, he may become vice-captain, and even captain if Scott Parker can't get back into the team. He has a habit of scoring every time he's Fulham's captain.