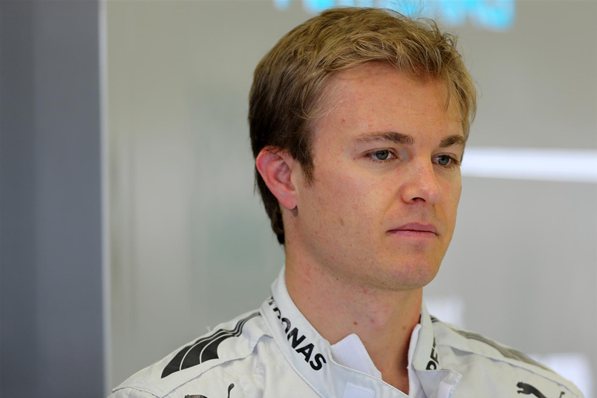 I don't know what I've just witnessed. Actually, yes I do, the best Formula One race since Brazil 2012, without a doubt. The 2015 United States Grand Prix had it all. Drama. Excitement. And a World Champion crowned.
Whilst Lewis Hamilton is euphoric with delight, Nico Rosberg has got to be sad. He is also ridiculously unlucky, in that every mistake he makes seems to cost him dearly, more so than Hamilton. This isn't Lewis taking advantage of Nico's mistakes, this is Nico being extremely unlucky.
I read many comments on the BBC website saying such things as "Rosberg's mistake shows why he'll never be world champion", which I think is a little harsh. Even at the US Grand Prix, Hamilton made far more mistakes than Rosberg did. Rosberg's one mistake cost him the win, but Hamilton didn't get anything right until the first safety car. I don't think he got turn one correct at all until the safety car went in.
Rubens Barrichello, like Nico Rosberg, was going to be world champion at some point, but severe bad luck and several other factors caused him to always be usurped by Michael Schumacher or Renault. The team also devoted all of its resources to Michael, and it's my belief that Mercedes do this to Hamilton too. At the end of 2012, Mercedes' "three-year-plan" to win the world championship with the Michael Schumacher/Ross Brawn combination expired. Many of the top personnel that had been around from BAR and Honda in the noughties were axed. Ross Brawn got a stay of execution on the basis that he was able to tempt Lewis Hamilton away from McLaren.
With Nico Rosberg and Michael Schumacher evenly matched between 2010 and 2012, Mercedes now needed to win with Hamilton - because winning with Rosberg would show the board at Daimler that they had spent all that money on Hamilton for nothing when retaining Schumacher or even hiring Paul Di Resta would have been a better move.
In 2013 (and 2012 for that matter), Mercedes struggled to build two Formula One cars, only usually getting one to the finish. At the start of 2012 Rosberg had the lucky car - with Schumacher retiring in five out of the first seven races. But after Hamilton signed for 2013, the tables turned, although by that point the 2012 car had had its development stopped. In 2013, Hamilton finished just 18 points (the equivalent of one second place finish) ahead of Rosberg - but Rosberg had three retirements to Hamilton's one.
But in 2014, whilst Hamilton won the title, Rosberg had two mechanical retirements, plus another when he managed to limp over the line in second place, and another when he finished 14th. Hamilton, by contrast, had just two mechanical issues all season. Add to the fact that Rosberg was given worse strategies by the team in Bahrain and Spain, and Hamilton's refusal to follow team orders in Hungary - and even Schumacher followed instructions when ordered to let Barrichello through when on different strategies and racing the rest of the field, as the Mercedes were doing at the time - and you get a new Rubens Barrichello.
In 2015, Rosberg suffered from a poor strategy call in Malaysia, but, by contrast, Hamilton's terrible strategy call in Monaco was his, not the team's, error. Add to another case of "eggs into Lewis's basket" in the UK and Rosberg was lucky to beat both Williams. Another dreadful strategy call in Hungary, coupled with engine failure in Italy, throttle failure in Russia, and being shoved off the track in Japan and the US, gives Rosberg cause to feel like Barrichello. Or Webber. Or Massa...